A change in seasons seems to induce the greatest change in a home's design. Warm weather call for open windows with flowing curtains, sunny skies prompt outdoor living, and the spring and summer seasons collectively evoke a whole different interior design. This sudden change shouldn't be seen as something scary, though. In fact, this shift should be viewed as fun! Adding more color into your design and implementing lighter fabrics to create more airiness is simple and enjoyable, if done correctly. Thibaut, a leading wallpaper and fabric brand, enables you to create the ideal summer scene. Say hello to the Tropics Collection-- we're obsessed. Here are three of our favorites. Enjoy!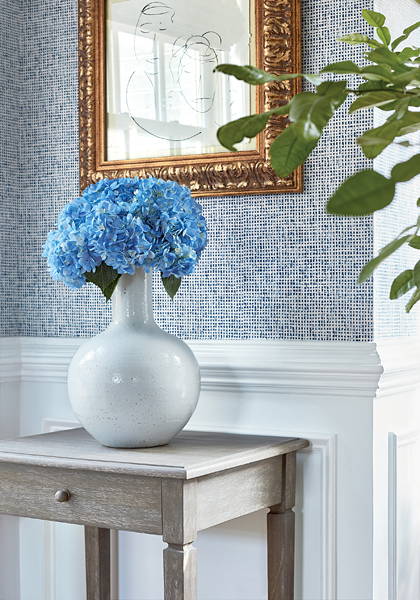 This is one of my favorite patterns from the collection. Its simplicity allows for it to be used anywhere, and not just in the spring/summer season. It's always fun working with a blue color scheme-- blue & white chinoiserie porcelain is easy to institute into a design and creates a crisp and effortlessly classic look that so many desire. Wallpaper should be unique, but not too vibrant or in-your-face. This pattern isn't either of these things, ensuring its ability to look fantastic in practically any space.
We get it-- yellow can be extremely scary. Finding the right shade can seem like the most difficult design task, with some options being way too bright, and some having too much orange. However, Thibaut completely eliminates the need to fear yellow. This "perfect" shade hunt has already been done for you and it's been turned into a lively pattern that will add dimension into your design. We can't say this enough- wallpaper is a fantastic resource for designing unique spaces that will yield the best memories all season long.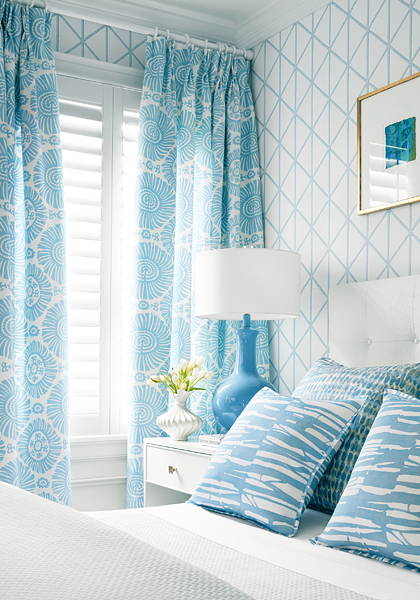 Are you getting the picture? Thibaut perfectly presents the possibilities of decorative fabrics and wallpaper so that you can capture their essences and create your ideal scene. This vignette showcases a different hue of a blue and white color scheme. With these striking patterns, visual interest can be in every aspect of a room. From the furniture to the ceiling, the possibilities are endless-- especially with all of Thibaut's fantastic options.