Simply put, a staircase is an architectural element that is often overlooked. Their utility often overpowers their potential beauty, leaving them in the dust of a design. However, there are numerous ways to style a staircase. Whether it's a gallery that spans the height of the wall parallel to the stairs, or a library at the landing, sprucing up a staircase is an easy and quick way to bring your design to the next level (sorry, we had to include that pun). Here are a couple of our favorite ways to style a stairway.
Try putting wallpaper on your steps.
For those of you who live in rental properties, or even if you own your home, putting removable wallpaper on the face of your steps is a fantastic way to temporarily add color and texture to your design. When your lease is up, or even if you're just bored of the paper, you'll easily be able to remove it and move onto the next. Not only does this make a statement, but it's also a great way to add your own personal touch on a somewhat bland staircase. English Traditions carries a massive variety of wallpapers; patterned, textures, colored, solid, geometric, etc., so you won't have any trouble picking out the perfect paper for your steps.
Always say yes to gallery walls.
When the opportunity arises for a gallery wall or walls, never turn it down. As we've said numerous times, we love "organized chaos". The extent to which you cover your walls is up to you, but we suggest implementing varying colors, textures, and patterns to add dimension and depth into your design. Who wouldn't love a wall full of personality and color?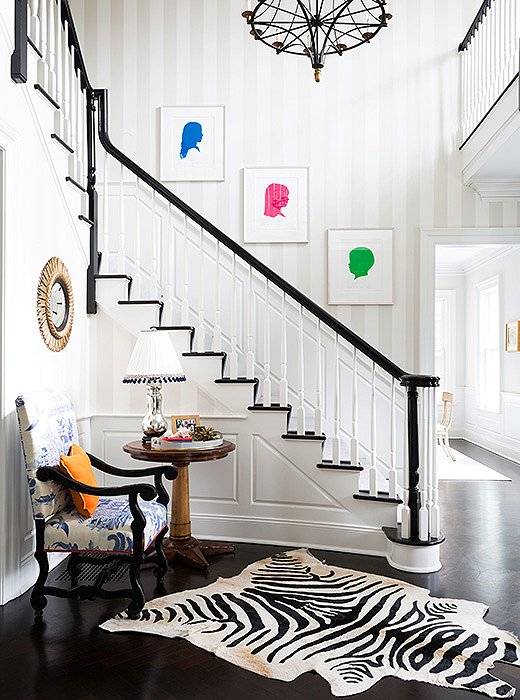 Image courtesy of Lesley Unruh.
What better way to accentuate the loftiness and luxury of your tall ceilings than by using a vertically oriented wallpaper?
This simple stripe, in particular, spans two stories, drawing the eye upward, showcasing the beautiful tall ceilings.
Shop our extensive selection of Thibaut wallpapers and find the perfect pattern for your space. Whatever color, texture, or pattern that you desire, we've got you covered.
A runner is a great way to add personality to a staircase. Whether it's patterned or solid, new or vintage, using a runner is an easy way to elevate any staircase's design.
Run with tradition and go with a simple runner spanning the length of the steps, or experiment with vintage or patterned runners for a more eclectic look. Either way, a runner is sure to look great on your steps.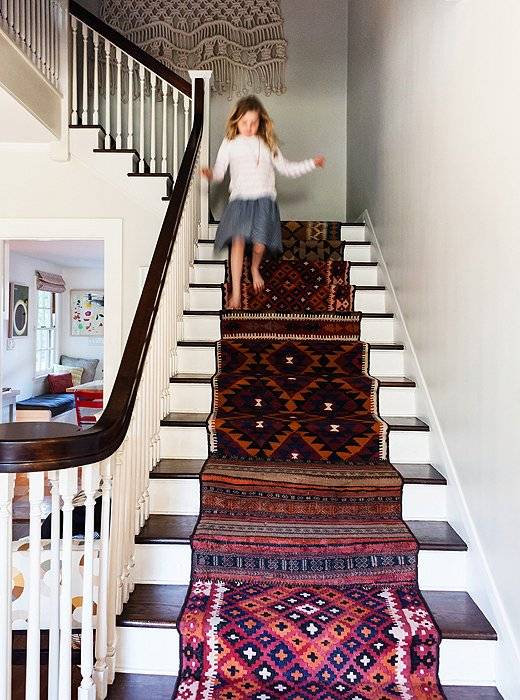 Image courtesy of Nicole LaMotte.