A dimly lit dining space outfitted with freshly cut flowers and random accessories from around the house is where we want to be this holiday season. Although they may seem far off, the holidays are quickly approaching, and so are the custom furniture deadlines!
I'm sure most of you reading this know how to set a table and host the holidays; it's a natural instinct some people are just born with. But, for those who are overwhelmed by all that comes with table setting, worry no more! Here are some of our best tips for setting the table (and hosting) this holiday season. Enjoy!
When you're preparing to set your table, it's very easy to go overboard. Practicality doesn't only apply to the amount of place settings or the number of plates designated to a guest, it applies to the accessories that you choose to spruce up the center of the table with.
For example, in terms of centerpieces or candlesticks, nothing should exceed 15" in height, unless you're trying to hide from your talkative cousin.
Keep it simple! You won't regret it.
We are always fans of mixed patterns and textures. Whether it be the flowers showcased in the centerpiece, the plates, or even your napkins, mixing and matching is always a great option to add flavor to your design.
Not only does this add interest to your table setting, it showcases who you are as a host and allows guests to feel more comfortable in a slightly "imperfect" space.
As a host, inconveniencing your guests seems like the end of the world; the second your friend gets up to pour herself another glass of wine in the kitchen, you're overcome with defeat as a host. Rid the need for anyone to dismiss themselves from the conversation by leaving a space on the table for bottles of wine, or whatever the drink of the night is.
This is a given, but dim lights add a level of intimacy and enhance conversation among your guests. Experiment with the lighting in your space by balancing chandelier light with candlelight to create the environment that you desire for you and your guests.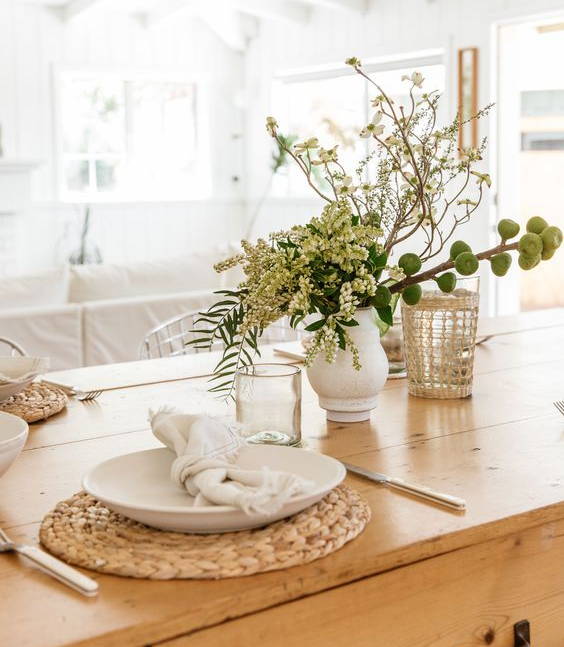 The last suggestion we have is probably the most important of them all; showcase your style! When you host, your home is a reflection of you. Uniformly mismatched place settings can reveal a multifaceted personality, whereas a consistent color scheme can suggest more fixed style. Either way, we're sure your table settings will look phenomenal. Now get to hosting, there's a lot of work to do!