As we've expressed in numerous posts prior to this one, it's vital to personalize your design. Whether that means being farmhouse chic, or even sticking to a glamorous, marble-clad theme, the spaces in your home should bring you comfort and happiness. Here are some of the best ways to personalize your bathroom. Enjoy!
Step 1: Choose your style.
When perusing through magazines, online articles, or even visiting family's and friends' homes, you will be confronted with an amplitude of bathroom design styles. Before you begin your remodel, or even just a refresh with new decor, it's important to choose the style you wish to emulate. Doing so will make for a much easier design process and will allow you to narrow down and quickly choose the finishes, colors, and decor.
Some of the most popular bathroom design styles of this era include...
Planning out your space before you start designing it extends far beyond the blueprint. Does your space need cabinets? Or would a floating countertop with exposed shelving suit the design better? Think outside of the physical placement of where your tub will go and which toilet you're going to buy; create an aura that makes you comfortable, happy, and relaxed.
Here are a couple questions you can ask yourself when pondering things beyond finishes and colors.
Is this space strictly for you?
Will this space entertain your toddler's bath time?
Do you need a separate water closet?
What kind of storage is needed?
Do you need a vanity? Or is this space just for bathing?
Do you want an attached closet?
Step 3: Consider your lighting options.
Just like in the rest of your home, lighting can instantly transform a space. A bathroom, however, is one of the trickiest rooms in the home to light. At night, everyone wants an ambient space in which they can wash their face, brush their teeth, and head to bed. However, in the morning, your bathroom should make you alert and awake, meaning the lights should be brighter than they were the night before. To do this correctly, consider using dimmers on your can lights, implement task lighting in or next to mirrors, and always have a fresh Votivo candle on the counter.
The task light above this mirror will allow for a direct stream of light on whatever task you're doing. Not only this, but a light separate from the ceiling will allow you to create ambience, as you can keep the main ceiling lights off, while keeping the task light on, making for a dim, relaxing bathroom at any time of day.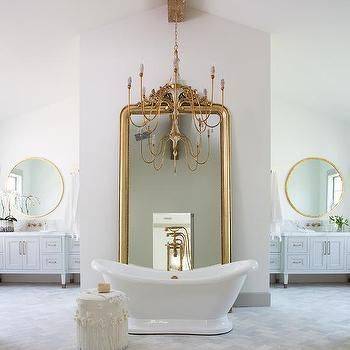 How should I personalize my space in ways smaller than a complete remodel?
We get it, remodels aren't for everyone. Although it all pays off in the end, they often run long timelines, inconvenience your daily routine, and can be extremely expensive. So, what are some smaller ways to spruce up the bathroom and make it your own?
1. Switch out pre-packaged soap bottles for a more classic pewter option. Do the same with soap trays, q-tip containers, etc. to create a custom & sophisticated vibe that you're sure to love!
2. Smells can often define a space. Whether it's the perfume you sprayed this morning, or the candle that you burn during your bath, making sure your space has a pleasant scent is extremely important. Votivo candles always have and always will be our go-to candle for every space in our homes. Here are some of our favorite scents for the summer season.
In the end, what it comes down to is truly what you want. It's your space after all, so customizing it to whatever you need it for is what matters the most. Most importantly, have fun with the design. Experiment with colors and textures, try bold wallpapers, uniquely arrange your bathroom tiles, etc. We hope our tips have helped. Now go out and DESIGN!