If you're at all like us here at English Traditions, then you appreciate the versatility and timelessness of neutral interiors. While we're all for having fun with fabrics and wall coverings, some spaces just call for a more muted color scheme. Here are some of our favorite room scenes and some tips for when it comes to decorating with neutrals.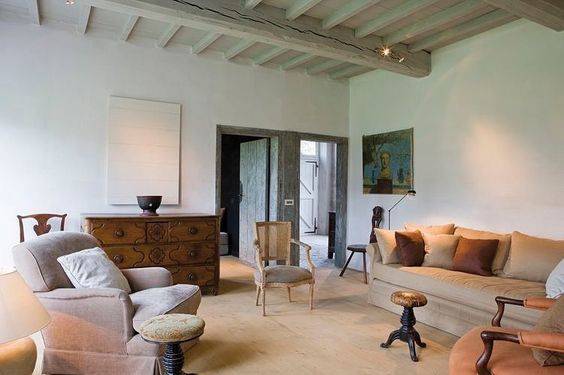 If you're using hues of tan, cream, ivory, or beige, there's no doubt that light will reflect off of these colors. This is often why some spaces call for a muted palette-- smaller rooms that have limited natural light are often the best places to experiment with this design style. "Neutral" doesn't have to mean white and beige, but refrain from using moody colors in these small spaces as the darkness will only make them feel smaller. A neutral color palette allows for natural light to bounce around the room… who wouldn't want that?
Similar to fashion, a lot of us will go for the simpler color or the less busy pattern because we want to maximize its use. The same goes for interiors; often, a muted color scheme (in terms of wall color, window treatments, upholstery, etc.) allows for the focal points to be exactly what they are-- focal points! If you're an English Traditions customer, then you likely have a piece or two that you want on display. Whether it be a chest of drawers, a beautiful french armoire, or even a solid-wood, custom dining table, neutral color palettes allow these pieces to speak for themselves. The beautiful intricacies we find on so many of our antiques won't stand out in every design style, so choosing the right basis to ensure that these features are seen is very important.
Neutral designs don't have to be bland! Just as you're not overdoing it with varying colors, don't overdo it with the same, one color. Remember to introduce soft touches here and there for a balanced design, and don't be afraid to switch things out. The beauty of design is the fact that nothing is permanent, especially pillows, throws, and even artwork. Have fun with it!
Textures play a huge role in neutral color schemes. Making sure you have varying textures will distinctify the similarity in the colors that you're using. Whether it be via a throw on the sofa or through the pile of the rug beneath the table, texture is something you can't forget about.