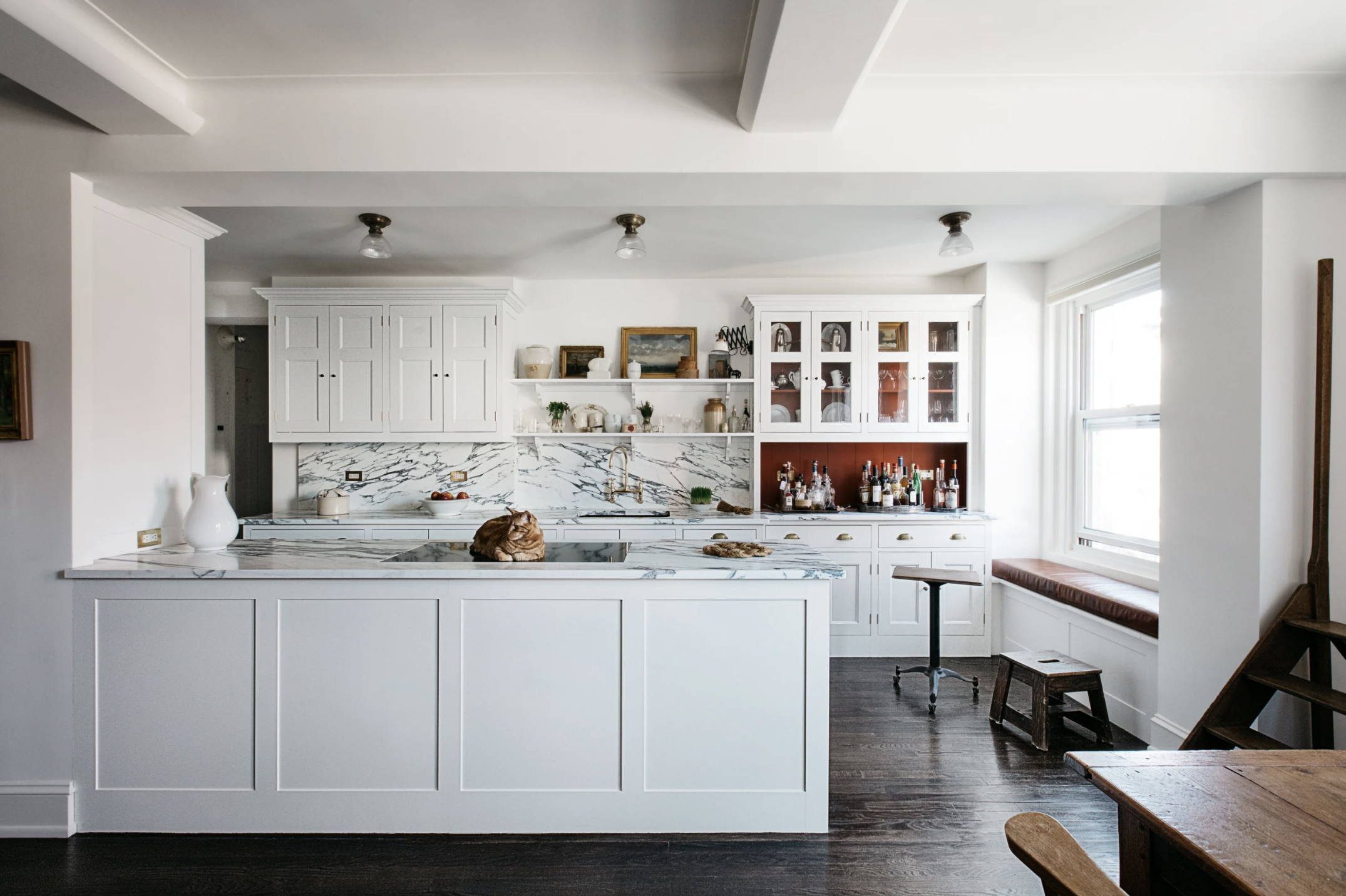 You know what they say; the kitchen is the "heart of the home", and this holiday season, I'm sure most of us will be spending plenty of time here. A well designed kitchen is key to a well designed life, so here are a couple of our best kitchen design tips and tricks. Enjoy!
Think about functionality.
Your kitchen layout should be designed around the chef, and creating ease and functionality should be your main priority. Most design forums say that the ideal kitchen appliance radius is six feet, meaning if you stand in the middle of your kitchen, your high-traffic appliances should be no more than six feet from you. Keep in mind appliance placement, too. For example, does an open dishwasher barricade the path to the oven? Or does the refrigerator door jab people washing dishes by the sink? Arranging your space with these things in mind will only yield a much more enjoyable design, trust us.
Don't forget about lighting.
The key to any design, wherever it may be in your home, is pulling together a mix of ambient and task lighting. Nobody wants their kitchen to be too bright, but, on the same note, nobody wants to cook in too dim of lighting. By using pendants, overhead lighting, and even chandeliers, you will create a layered mixture of lighting, which will give you options for whatever the occasion may be.
Check out all of our lighting HERE.
Now let's talk materials…
This is where the fun really begins. Although overwhelming at times, choosing the right materials for you, your space, and your home's cohesiveness is of utmost importance. We suggest avoiding materials that easily stain, as you never know when a spill might happen. Below, we've broken down some of the most popular kitchen countertop materials.
Marble is a very popular choice because of its luxurious look and the touch of glamour it can add to a space. However, choosing the wrong marble for your lifestyle can make or break your kitchen design. While most marbles are porous and easily scratched, they are also great surfaces for baking/rolling dough, and they simply look incredible. If you do choose to design with marble, make sure you're aware of the maintenance required to keep it looking nice.
Granite is marble's "less sexy" cousin. More durable than marble, but less durable than quartz, granite countertops have also become extremely popular. However, this option can easily date a kitchen, if not done correctly.
Quartz is one of the most durable countertop options on the market. It's perfect for families and requires very little maintenance. If you're stuck on the marble/granite look but don't feel like dealing with the upkeep, go with quartz.
Butcher block has increased in popularity over the past couple of years because of its affordability and farmhouse look. While they're not stone, they do require more care than most people realize. Porous and easily stained, butcher block countertops are most suitable for islands or areas that need a more natural, earthy look.
Choosing a color scheme for your space is another extremely overwhelming task, but with our help or simply a fresh, unique approach, the process is actually really fun. While white-washed kitchens were all the rage in the 2010s, more refined and maximalist color schemes have made their way back into design magazines and, consequently, people's homes.
We love color in a kitchen, but it's most important to choose colors that you see yourself living with for years to come.
Go bold - A lot of us like creating a "wow moment" and this can be achieved through using colors in your kitchen design. Whether its colored cabinetry, vintage appliances, or even fun wallpapers, boldness in the kitchen is a great way to express yourself and make a statement in your home.
Go more muted - We get it-- all over color may not be your thing. There are so many other kitchen elements, aside from cabinetry, that can be easily changed over time. Some suggest painting the inside of your cabinets for personal flair, while others simply suggest changing the color of your island from time to time. Whatever you do, bring a little bit of color and life into your design-- you won't regret it.