This Sunday, March 10th, we will all be setting our clocks an hour ahead, prompting the arrival of one of the most beautiful seasons. Despite losing a precious hour of sleep, the blooming of tulips and the advent of sunnier days excites almost all of us; it gives us the ability to say "good riddance" to the vexing piles of snow on our cars in the morning and the zipping of our shoulder-to-toe coats. With Spring comes so many things; it's a time to plant, a time to clean, and a time to enjoy. What does Spring have in store for you? A new sofa? New planters for the front door? English Traditions has got you covered. Happy spring, everyone!
Cleaning is a simple task most of us dread. However, there is no better time to toss the unnecessary items cluttering your attic, basement, closets, and corners. This time around, pay extra close attention to the little details many often forget. Dust off those pendant lights above your island, wipe down the floorboards, and cleanse yourself and your home of all the wintry grime that has collected over the past couple of months. Look through your junk drawer, organize your office, and look forward to spending the coming spring days in these polished spaces. When you're finished, open up the windows and light a fresh, aromatic Votivo candle; your home will feel squeaky clean, effectively decluttered, and will smell fantastic.
When it comes to the bathroom, spring is the perfect time to grab some new white towels and switch out the hand soap. Start implementing greenery and flowers in your spaces-- it will invite the spring season inside and elevate any design. Check out some of our bathroom must haves!
---
Yes, it is true-- April showers do, indeed bring May flowers. But, these flowers only bloom if their seeds are planted at this time of year. The bird chirping we will begin to hear soon will remind us to bring our gardens back to life from a long winter. Spring cleaning can be transferred to these areas of the home, as well. Clear out the old leaves and leftover snow piles that probably cover your existing garden. Trim your plants so that they bloom to their potential, lay down a fresh coating of mulch, and get to planting! Doing it now lets you sit back on the porch and reflect on your hard work and admire your beautiful garden.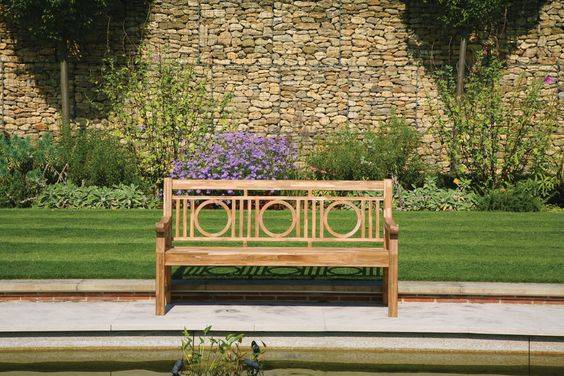 For most of us, our porches are we spend a huge portion of our time. We can't express how important durable outdoor furniture is. Our outdoor furniture selection makes the shopping process easy; you can't go wrong with a single piece in our collection. Pictured, the Leagrave bench is the perfect place to sit and appreciate your blooming outdoor space. Not only is furniture important, but the decor with which you choose to decorate your home's facade makes a huge difference as well. As they say, the inside of a home is equally as important as its exterior. Check out some of our favorite outdoor decor pieces!
---
I'm sure we're equally as excited for spring to come. Blooming flowers and longer days make it a more enjoyable season for all. Remember, whatever you need to decorate or refresh your home for this coming season, English Traditions has you covered. Happy spring and happy shopping!