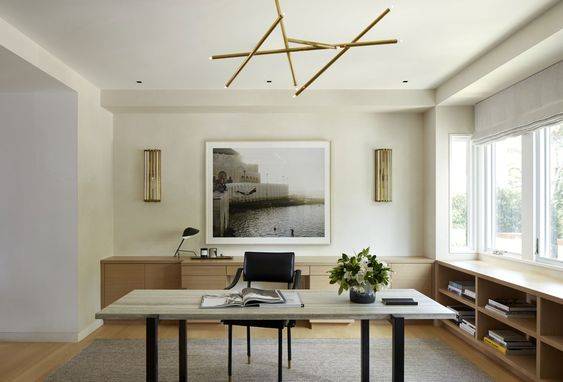 Your home is your space, so there's no reason to skimp out on any feature that you use frequently. If the past year has taught us anything, it's that working from home has become the new norm. Whether your home office is the hub of your business, or even if it's simply a place to pay the bills, you deserve more than a swivel chair and mini desk tucked in a spare closet or cramped guest bedroom. Here are some of our best tips for designing the ideal home office-- enjoy!
---
1. Find the right location.
Location pulls a lot of weight when it comes to home offices. Likely, you'll be spending a lot, if not all, of your work day in this space, so choose an area that you enjoy being in. Find a low-traffic spot with good natural light to avoid distraction and promote a pleasant work environment. If you know clients will have reason to visit your office, a space with ample seating is a must.
2. Keep function in mind.
Your office equipment is there to serve you, not the other way around. Consider the way you work and what materials you need at your fingertips before investing in furniture. Planning out the organizational structure of your office is essential when it comes to creating the ideal work space. Do I need surface space for my work? Do I need bookshelf storage? These are just a few questions to ask yourself during this planning process.
3. Paint the walls a color you love.
Like we said, your home is your space. The same goes for your office-- it's yours! Have fun with your design. Play with your favorite colors or try out that wallpaper you've been eyeing! Since you'll probably be spending a lot of time here, it's important to surround yourself with things that you enjoy. Check out our wallpaper price & memo request form HERE.
4. Think about your view.
What is your desk facing? Likely, you'll want to position it so as to give yourself something enjoyable to look at. You may love the paint color on the walls, but I can guarantee you'll love the view out of your window even more.
5. Choose charming accessories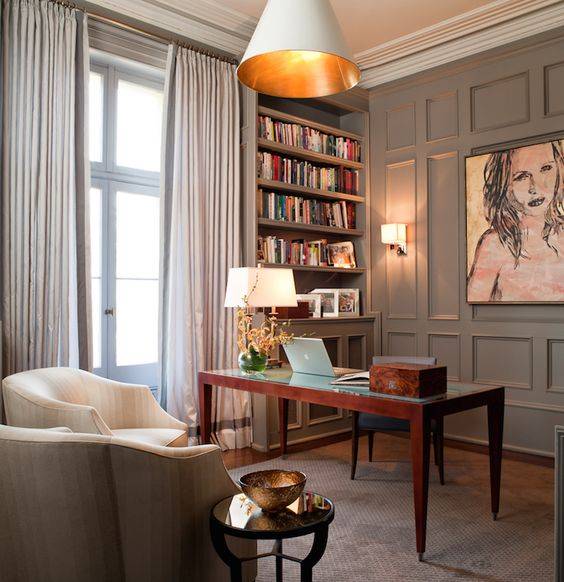 Working from home gives you the opportunity to create an environment that doesn't seem like an office-grade, grey cubicle. Again, it's your space, so have fun! Choosing homey accessories that act as personal touches will yield for a much better end result-- trust us. Check out some of our most charming accessories available in store right now.
Lighting is one of the most important parts of any design. Position your computer screen to avoid a glare, outfit your desk with a small task light, and vary the lighting you use. Nobody wants their space to be illuminated only by overhead can lights, just as nobody wants an overly dim work environment. Check out some of our favorite table and task lamps on our website right now.