Gallery walls are staples in any home design; they can be created anywhere and without a ton of effort. The gallery wall "trend" has maintained its class and charm throughout the many years of its existence. Whether you're an art collector or simply need a wall filler, a gallery is almost always the answer. Here are some of our favorite gallery walls. Enjoy!
Gallery walls come in so many different forms. From assorted frames to coordinated prints, there's almost nothing you can do wrong when creating your "exhibition".
In this particular room scene, the designer did a fantastic job working with simplicity. The subject of the prints, although different in shape and size, is uniform with its counterparts. The repeating gold frame adds a layer of sophistication and class to a seemingly uncomplicated orientation.
By adding a vase of flowers and a pair of sconces, the design feels complete and well-rounded. What's not to love?
---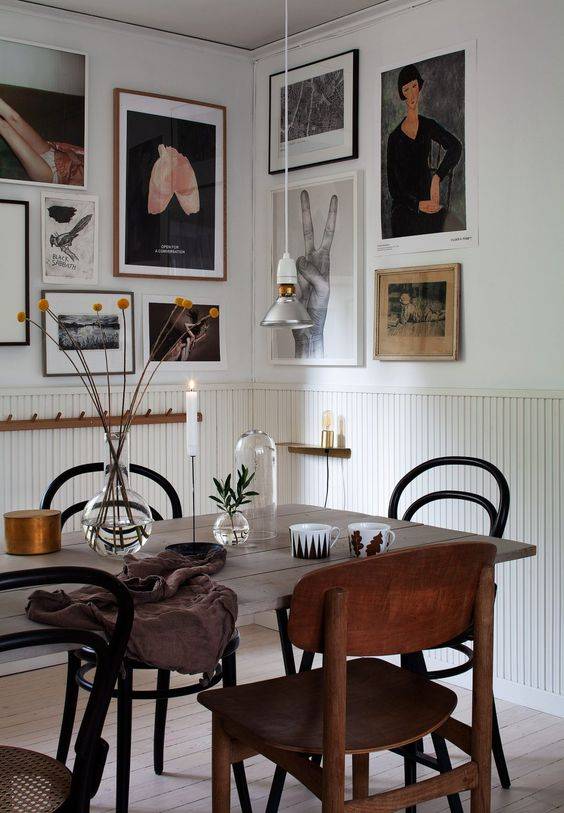 This art assortment perfectly captures the mismatched essence that so many people love about gallery walls.
The vibe of the wall comes down to the art that's displayed. Some galleries showcase oil paintings and ornate frames, whereas others lean more toward the photography/poster realm. The vibe that you want to create is completely your choice, so experiment with all sorts of combinations to find out what you like best.
This dining room's wall has a mix of framed prints and unframed posters. The varying depths from art piece to art piece creates a multi-leveled assortment that's easy to fall in love with.
---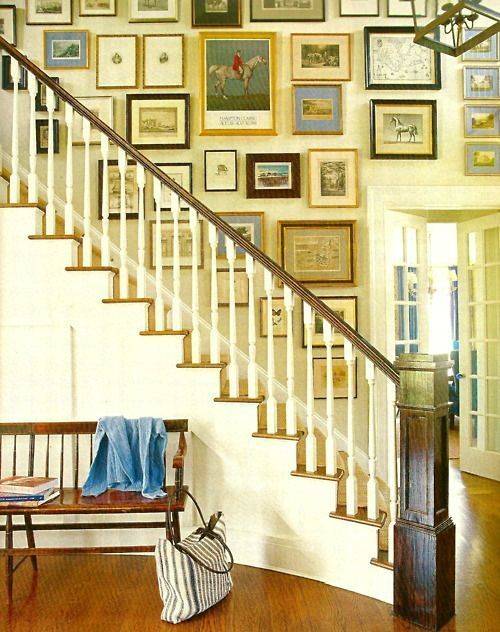 We're suckers for a staircase gallery... especially this one. The simplicity of the staircase is complemented by the complexity of the frames, prints, and paintings. The slight curve of the staircase invites us up and encourages us to take a peek at all that wall has to offer. Whether it's pictures of your family, a collection of french posters, or even artwork you've created, there should be no question in displaying it. Test different placements and look for a wide variety of artistic styles, but always pull the design together by using a similar color scheme across all of the art you're displaying. It will make the design feel a lot more purposeful and less like a randomly variegated arrangement.
---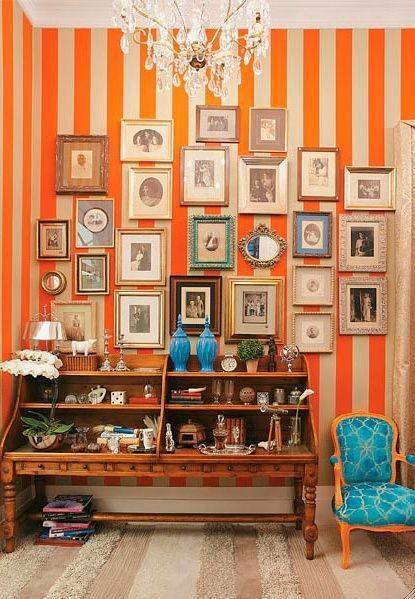 We get it, this may not appeal to the masses. A lot of people don't love mixing bright colors and seemingly unmatched patterns, but it just works here.
Organized chaos is a term we like to use all of the time, and a bright orange stripe paired with a turquoise velvet chair is definitely chaotic, but in the best possible way.
The gallery, however, is oriented around the blue center frame that pulls from the chair beside the desk. It's the little details like these that let us really appreciate certain designs.
Can we take a moment to appreciate that desk? It's definitely safe to say that all of us, literally all of us, want that desk in our homes.
---