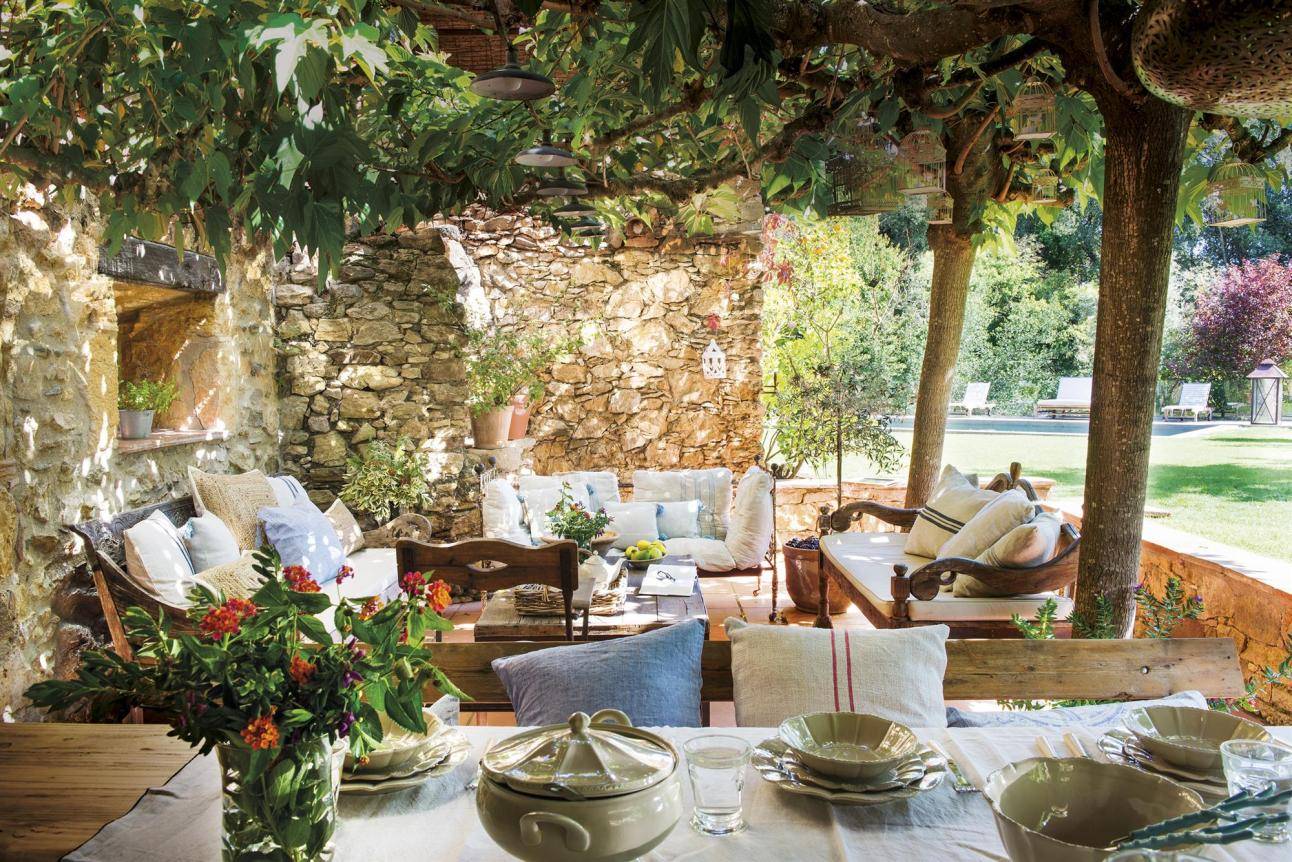 Spring has officially sprung here in Cincinnati! As we open our windows to feel the warmth, there's a constant reminder that outdoor living is back, and it's not going anywhere for awhile. Here are five outdoor spaces that are not only sophisticated, but also have us longing for the beautiful weather headed our way. Enjoy!
17th Century Spanish Home
When I saw this cover image on my Pinterest feed the other day, I was inspired to create this blog post. There's something so cozy and comforting about sitting under a shady tree in a stone courtyard-- and this one has my name written all over it. I love the mix of linens and texture that makes each seat welcoming and relaxed. Beautiful foliage covers almost every square inch of this outdoor patio, and we are obsessed.
PRO TIP: Play around with textures in your furniture, linens, and even landscaping. You'll create a much more varied design by doing this instead of buying one patio set from a showroom.
Pergola-Covered Dining Area
This picture alone explains its placement on our list-- I mean, look at that pergola! Vast windows (that look original to the home) make this enclosed dining space an extension of the indoors. Comfortable seating and pleasant surroundings make this space one we'd never leave. Again, lush greenery enhances the feel of this courtyard and gives in the lived-in, permanent feel that makes it so gorgeous.  
---
Our Outdoor Lighting Favorites
---
French Provencal Poolside
Betty and Francois Catroux's 16th century farmhouse in Luberon has been featured in home magazines many-a-times-- for good reason! The beautiful poolside area extends into the countryside and makes for a blissful, relaxed space perfect for entertaining and everyday outdoor living.
Covered Trellis With a View
Here's another view of the Catroux french farmhouse, simply because you deserve to see more than one picture. This enclosed trellis gives shade while also providing views toward the fountain and pool beyond. I don't know about you, but I sure could enjoy some lunch out here on a sunny day.  
A sprawling oak tree shelters this beautiful outdoor living space. Wrought iron patio furniture creates a timeless, antique feel that works seamlessly with the surrounding greenery. The sprawling hills of this estate make it the perfect place to relax under the sun (or under the shade given by the stunning oak tree). What do you think?