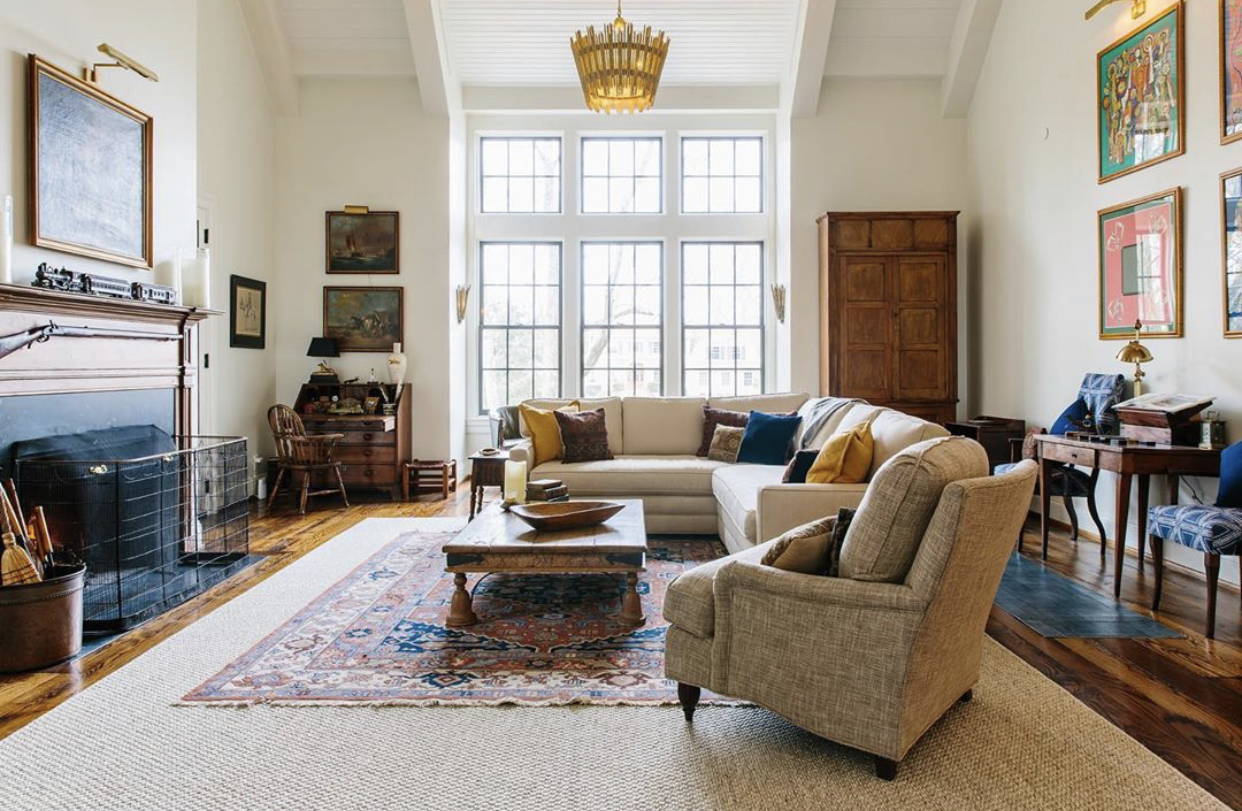 One of the biggest and most essential parts of a space is the rug; it's quite literally the basis of a design. Rugs ground your furniture and anchor your pieces so as to add permanence to your space. On top of this, rugs can take up a lot of real estate in your home, so choosing the right one can seem extremely overwhelming. Here's what we like to call "Rug 101"-- enjoy!
---
Like we said, choosing a rug may seem like a daunting task. No matter the size, finding the perfect fit will make all the difference. It's important to look for quality and to not skimp out on such a vital design element just to get it over with. English Traditions carries a vast selection of rugs, custom and vintage, so that you can find exactly what you're looking for.
- Loloi
- Adara Limited
- Fibreworks
- Design Materials
- Jaunty
- Jaipur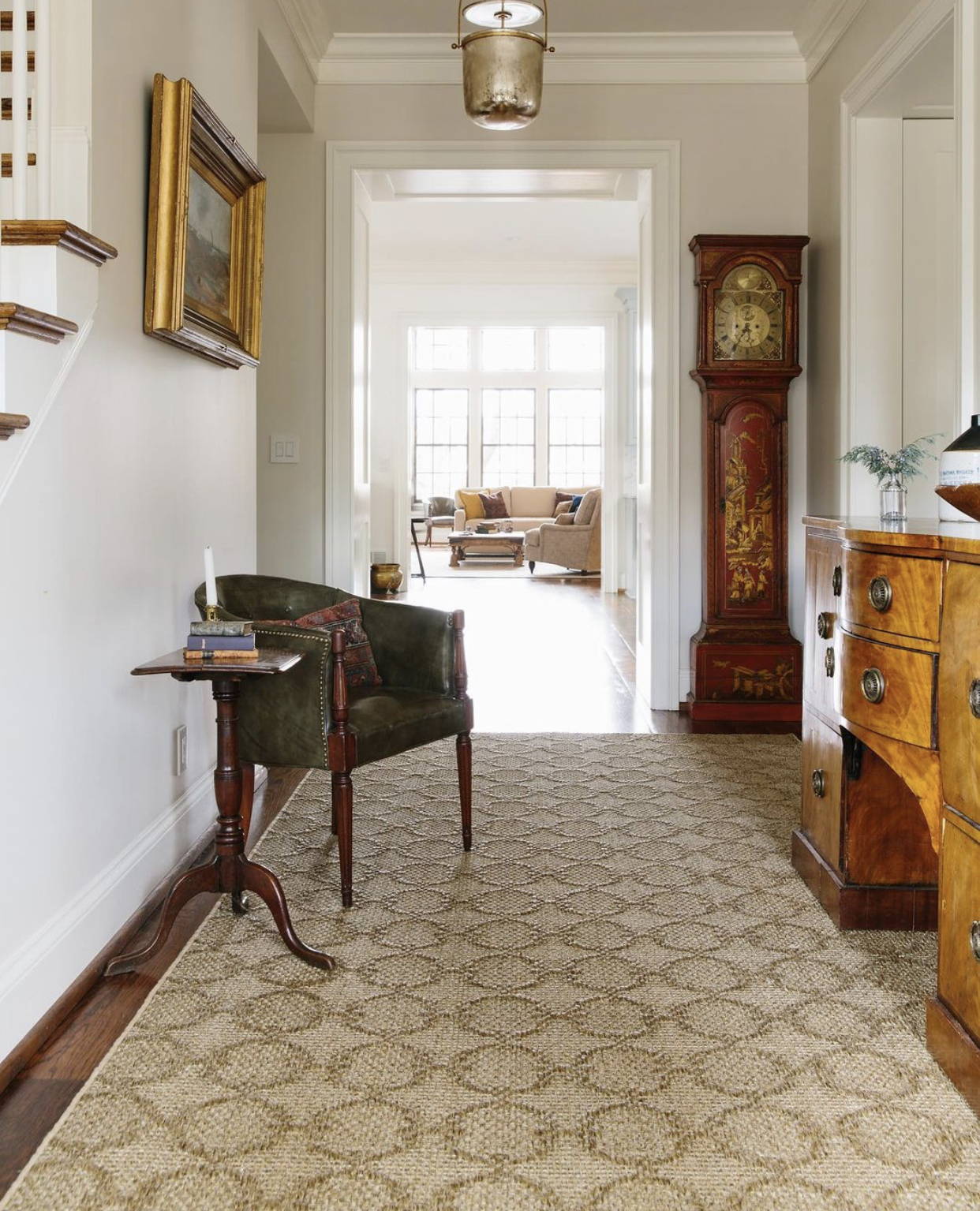 ---
We carry the entire Loloi product line, excluding their collaborations with other designers (ED, Magnolia Home, Justina Blakeney, and Rifle Paper Co.). Specializing in rugs at affordable pricing, Loloi also carries pillows and throws. With a wide range of styles, colors, patterns, and sizes, Loloi makes it easy to find exactly what you need. This line is widely known and can be found in many designs-- and we'd love to be your source for any and all orders, regardless of where you are on the map. Support small business!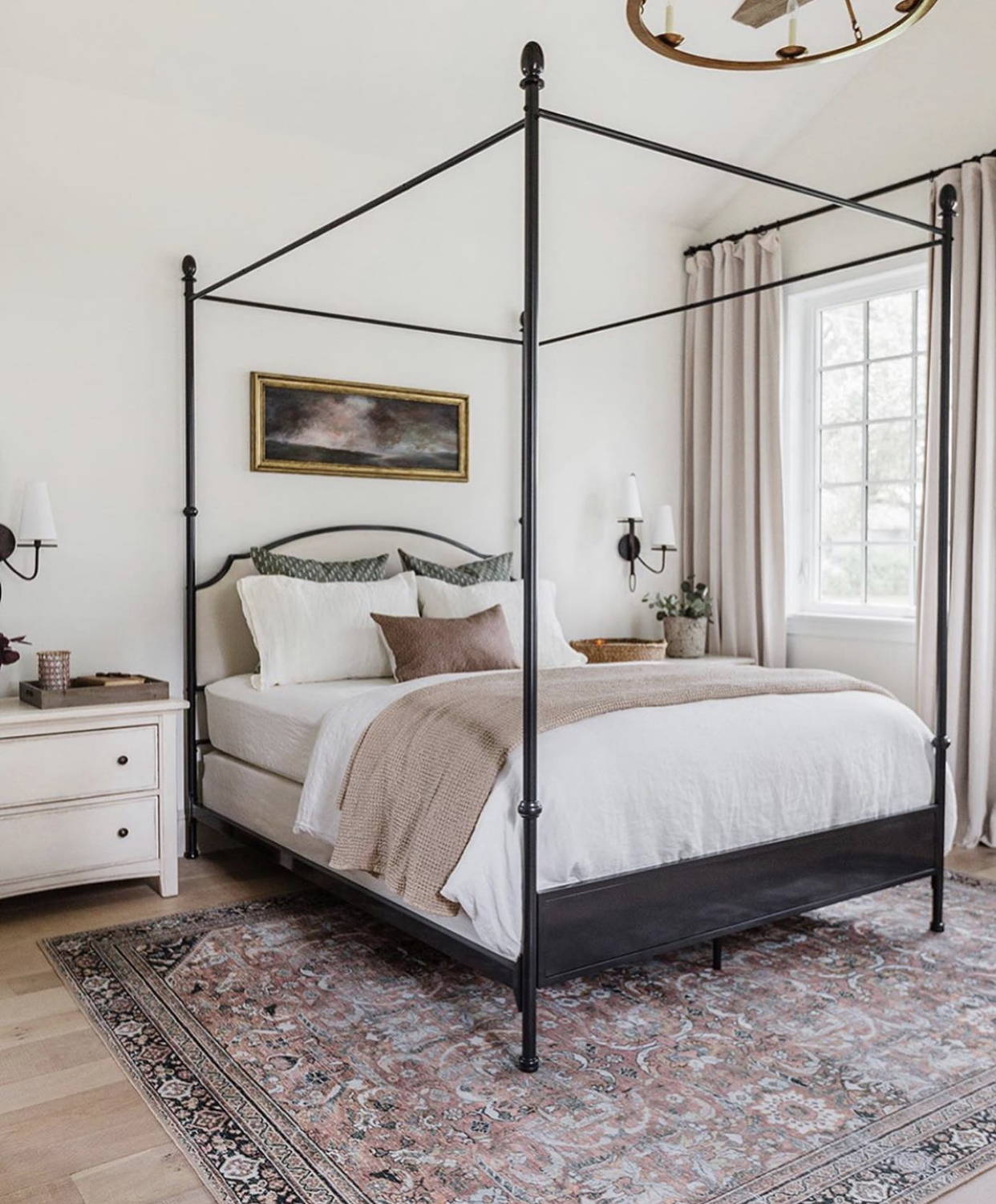 Specializing in natural fiber carpet and rugs, Adara Limited is another family-owned business that we love working with. Fully customizable, Adara Limited gives you the option of combining different styles with rug borders and colors. Have fun and get creative in our design center-- we have more than you think!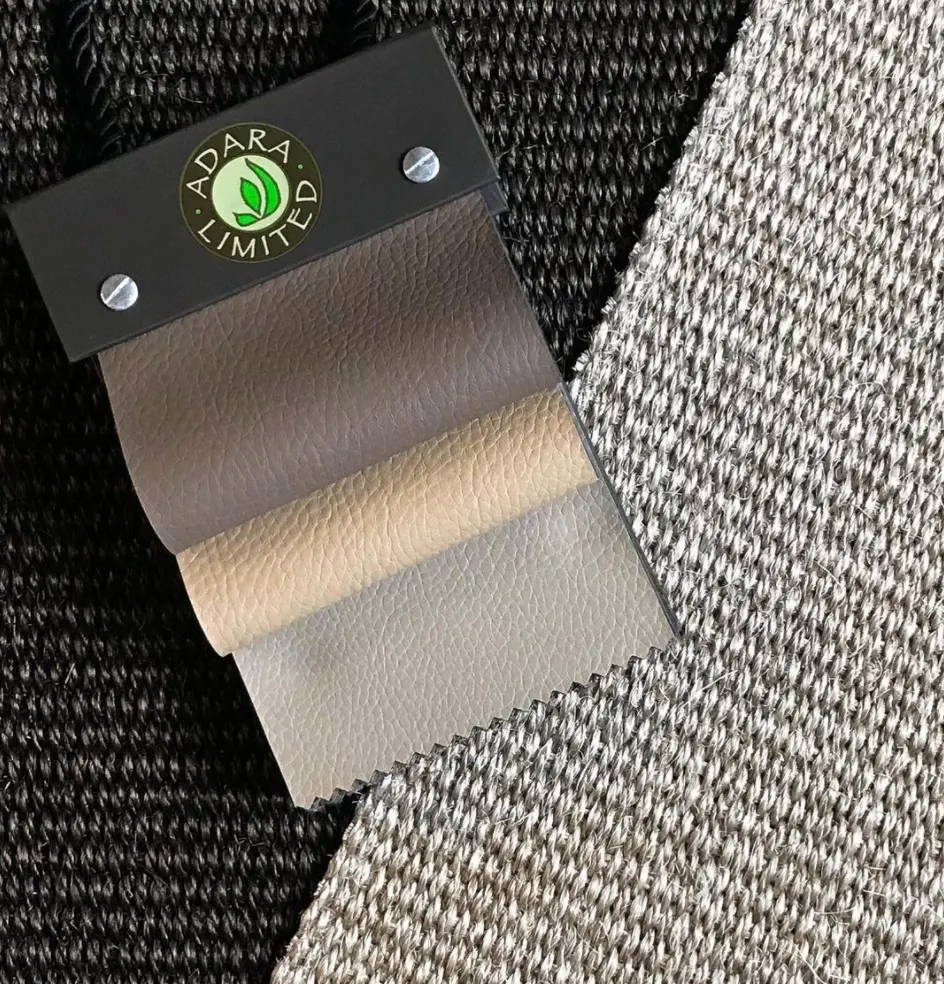 Fibreworks offers natural fiber floor covering as broadloom carpet or custom bordered area rugs. Not only does this company ensure high-quality products, it's also environmentally friendly and made entirely from nature. With different border application techniques, the ability to use customer's own material (COM), and custom sizing, the options with Fibreworks are literally infinite. What will you create?
Design Materials (DMI) is another fantastic line we carry, offering natural fiber rugs, 100% wool rugs, commercial carpets, woven vinyl flooring, and even wall coverings. This line also gives you the option to create your own customized rug.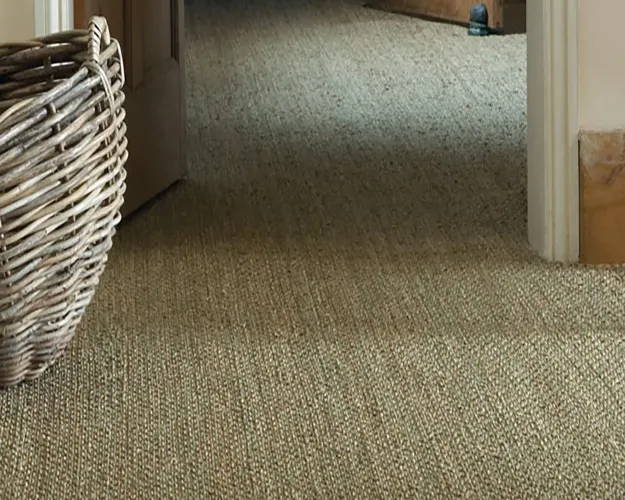 Founded in Los Angeles, Jaunty specializes in handmade rug designs and innovative colors and textures. Jaunty offers a wide selection of programmed rugs, as well as one-of-a-kind options. In 2007, Jaunty became the first rug company to stop offering its rugs to online retailers, protecting brick and mortar stores like us.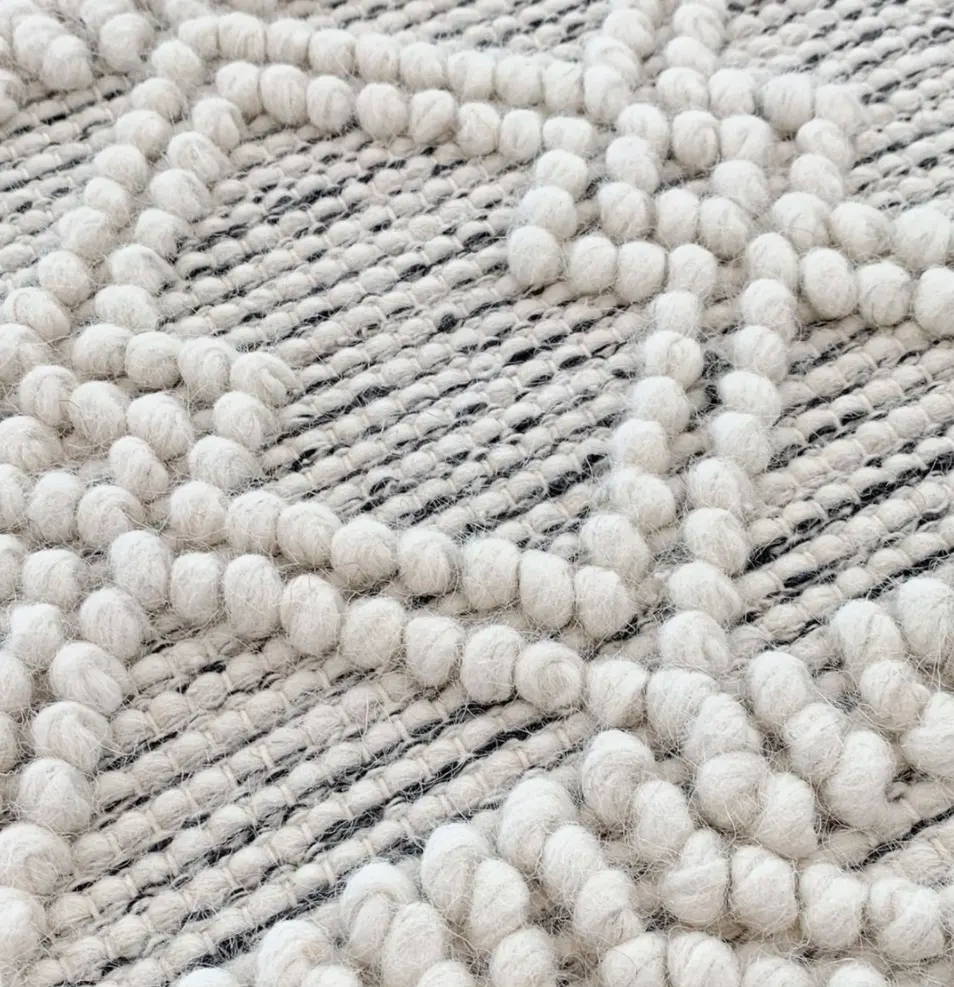 Specializing in hand-knotted rugs, Jaipur carries everything from natural fiber to indoor/outdoor styles. On top of rugs, Jaipur also offers pillows, poufs, and decor.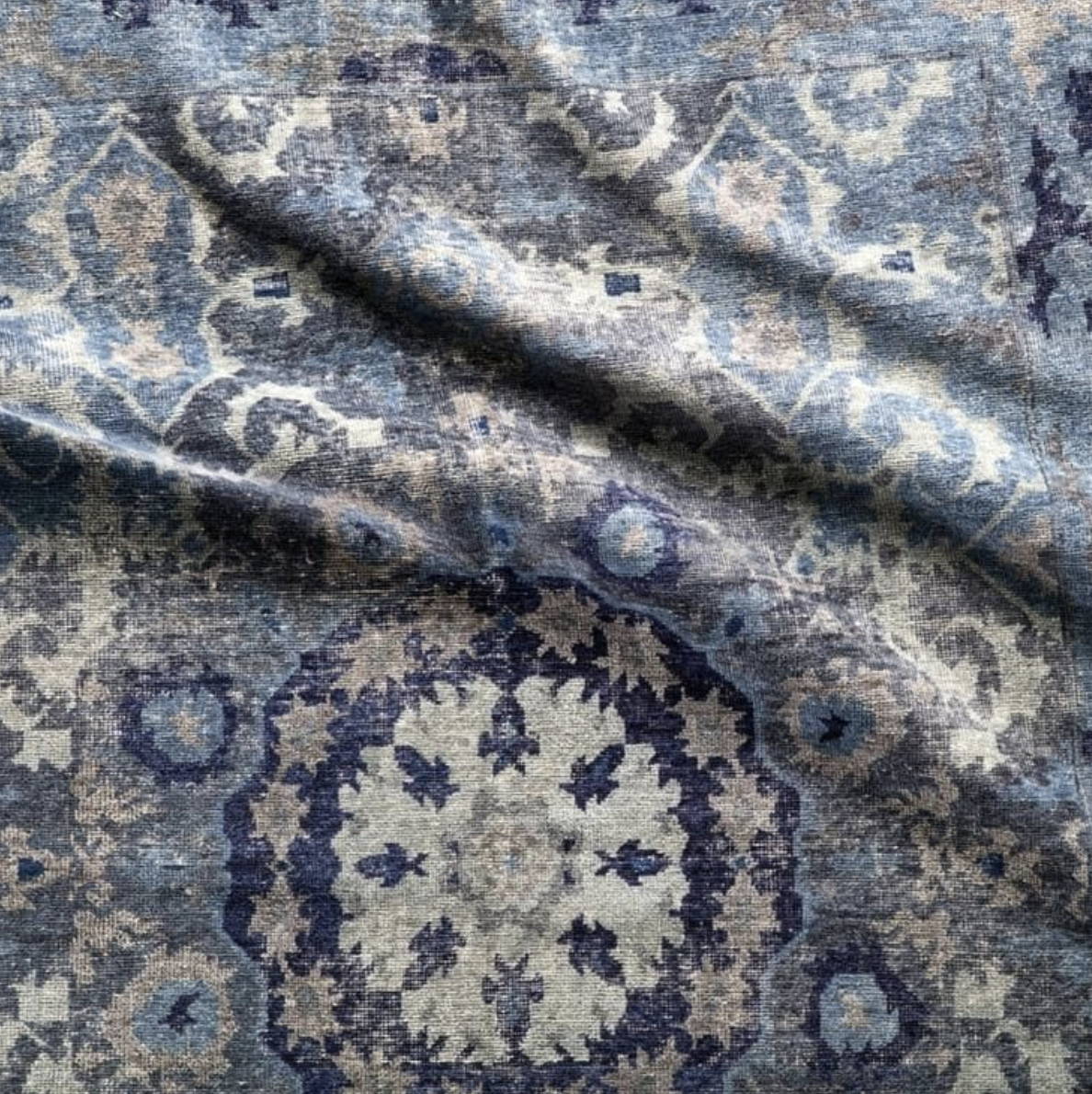 ---
Now that you're familiar with the rug lines that we carry, let's get into some basics...
Living Room Size Selection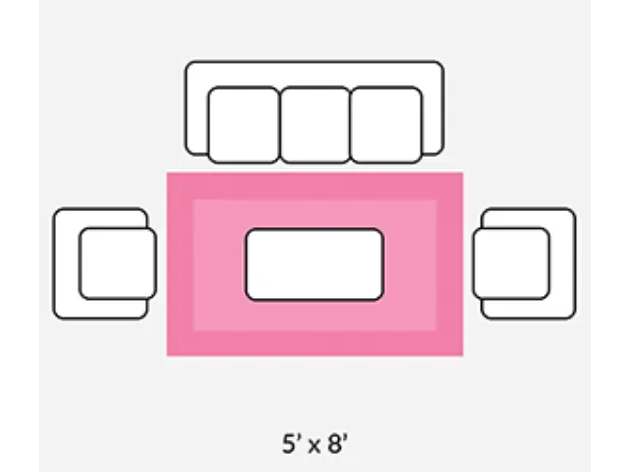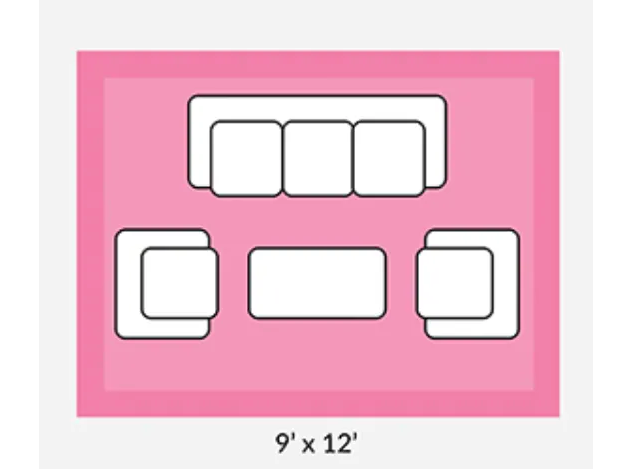 For smaller spaces, we suggest a 5'x8' or a 6'x9'. The front of the rug should lay just a few inches from the front of your sofa. Chairs can be situated away from the rug, or half-on, half-off the rug. If you have a coffee table, make sure that the rug can accommodate all four legs or the entire shape of the table.
Larger rooms usually require rugs ranging from 8'x10' to 9'x12'. Of course, with the lines that we carry, you are able to create a custom size depending on the shape and size of your room, so keep that in mind when planning your next rug purchase. The front of your sofa should be 2/3 of the way on the rug, and the accompanying chairs should be the same. Leaving a border of 18"-24" will leave you with plenty of space to frame your living arrangement.
Best for floating furniture, a 9'x12' gives you the ability to center your pieces upon the rug. Be sure to leave an equal amount of floor space on all sides of your arrangement, typically anywhere from 12"-18". All furniture should be left on top of the rug without looking too cluttered or cramped.
Dining Room Size Selection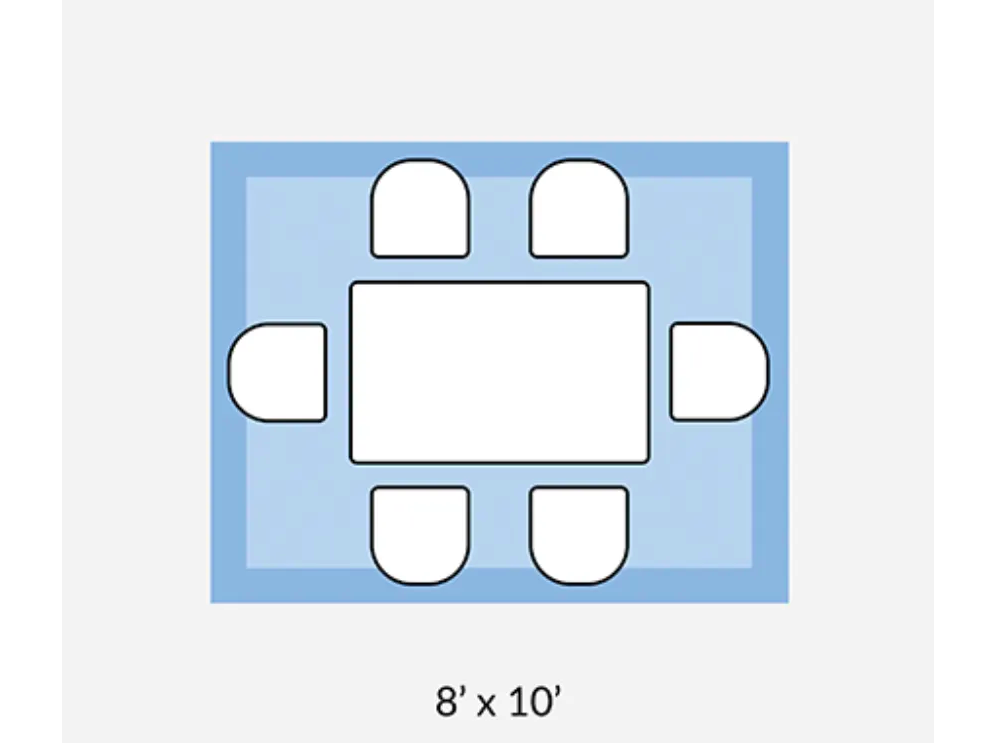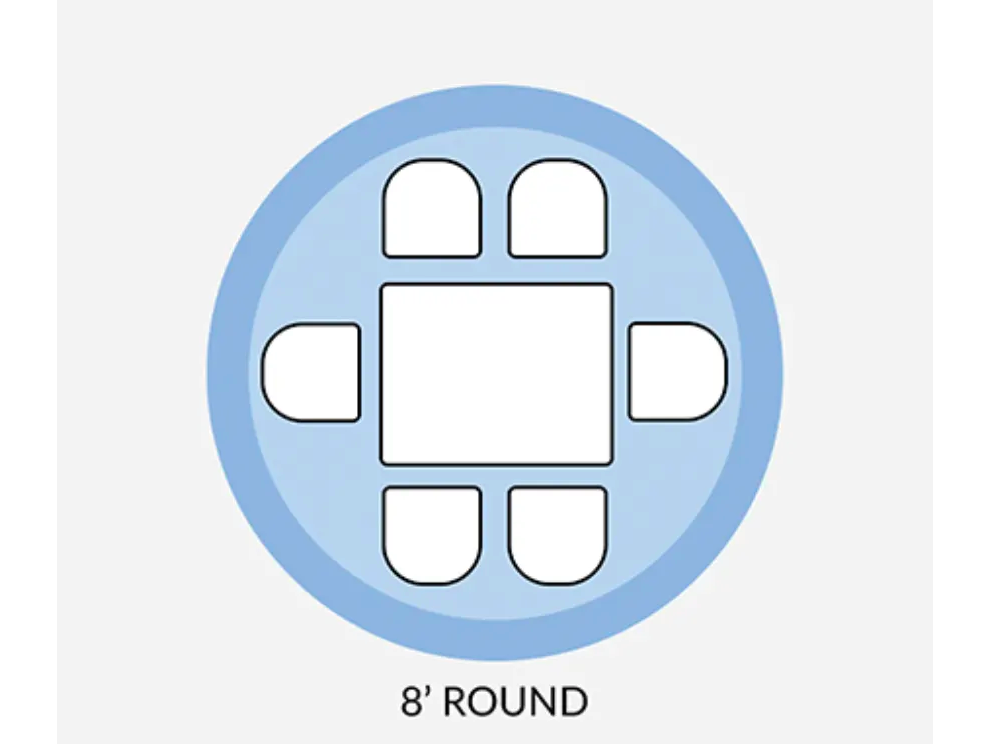 Be sure to choose a rug that is able to accommodate all chair legs, even when they're pulled out from the table. Usually an 8'x10' does the job, but size varies depending on table length, width, and even the style of chair you use.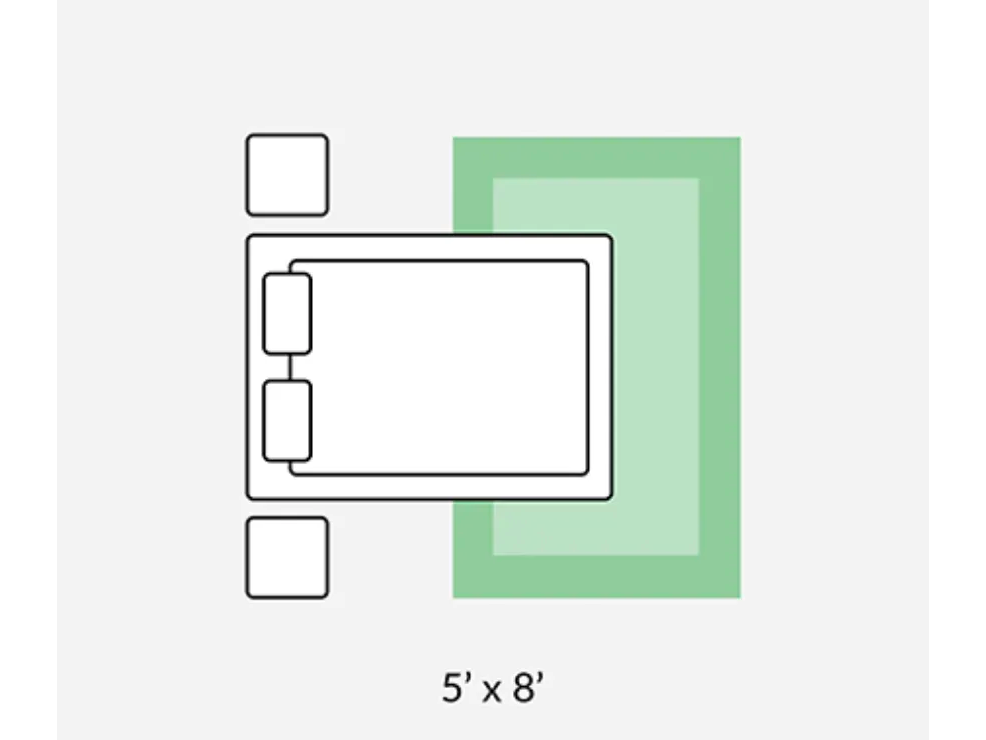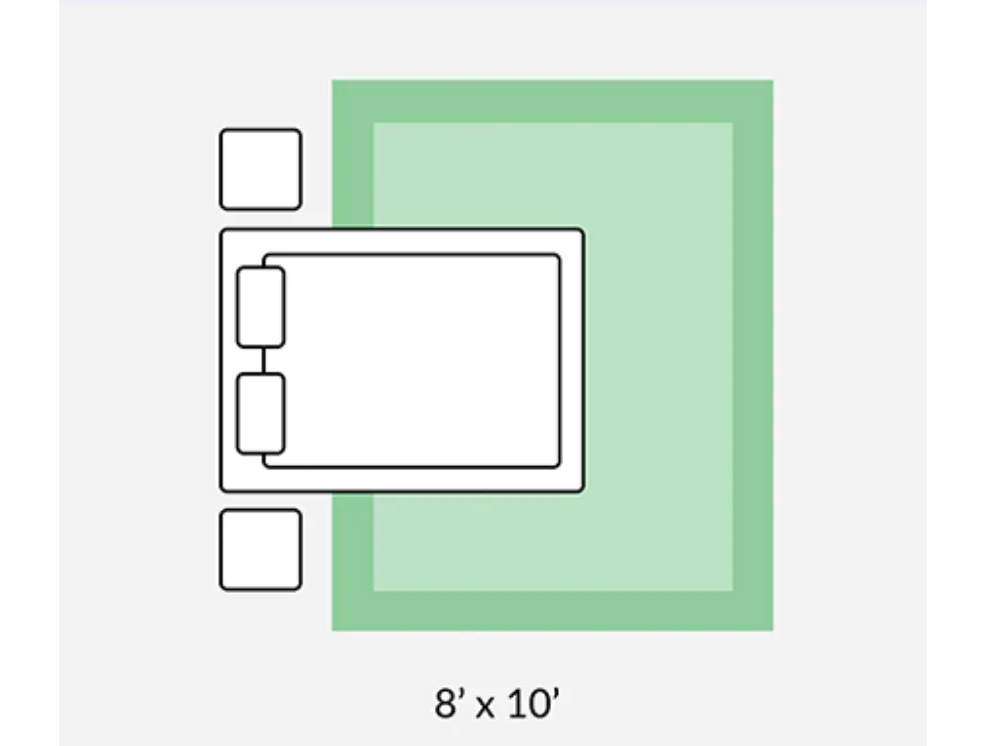 Situate your rug so that the longer side runs parallel to your headboard. This will elongate your room and create a stronger basis for not only the bed itself, but the mirroring nightstands. The foot of the bed should typically rest on a point halfway through the rug.
The same goes for this option; situate all furniture in the center of the rug so that there's about 20" on either side (a general rule-of-thumb). Again, run the long side of your rug parallel to your headboard, and rest the foot of your bed at some point on the rug, leaving the nightstands and top of the bed on the uncovered floor. Again, rug size varies based on the sizes of your furniture-- so keep in mind all of the lines that offer custom sizing.
---
Before purchasing a rug, consider its intended function. Do you plan on putting this rug in a high-traffic area, like the entryway or living room? Will this rug get spilled on? Will you ever be laying on this rug, therefore needing it to be soft? There's a lot that goes into finding the right rug, but thinking about it beforehand saves you (and us) valuable shopping time.
Typically, natural fiber rugs/carpets are best for high-traffic areas. These rugs are very durable and usually very affordable, so you won't feel bad if you have to replace them every once in awhile due to wear and tear.
---
Where do I shop for my rug? Should I order it online?
While we do have a select few rugs on our website, the best way to get the full experience is by scheduling a design appointment to shop our showroom. Doing this gives you the ability to compare different brands, colors, patterns, and textures, as well as input from our store associates.
However, we do realize not everyone is able to come to our Cincinnati store to shop; therefore, we assure you that any rug you order on our website, whether it be oriental, natural fiber, wool, or anything else, is of the highest quality and is something that we would put in our own homes. Don't be scared of ordering your rug online at EnglishTraditions.com, because we can guarantee style, quality, and durability.