Whatever the season, there is nothing more welcoming than a cozy bedroom outfitted with every winter essential. In the interest of helping you create the most comfortable bedroom imaginable, I've compiled a list of suggestions to consider when designing a winter getaway of your own.
Whatever the circumstance, the answer is always linen. Although typically viewed as a lightweight, breezy textile only to be worn in the warmer months, linen serves a different purpose in the home. Its seemingly worn-in nature will make your bedroom feel much more laid back while also adding a subtle texture that is so necessary in creating a cozy space. The extent to which you use this fabulous textile is up to you, but implementing it one way or another will pay off big time-- trust me.
If a white linen is too breezy for your winter needs, don't hesitate to layer different linens to create a multileveled look that is sure to be fantastic.
---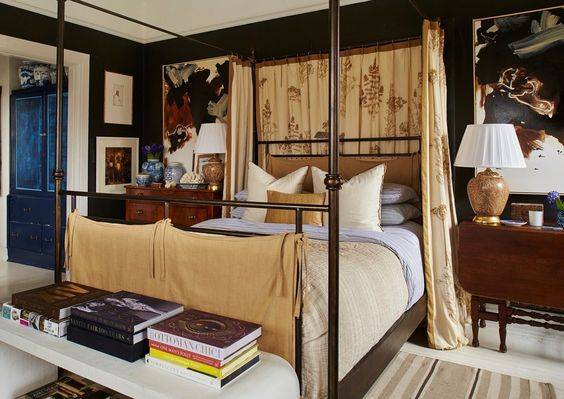 This may seem obvious, but adding your own flair to a bedroom is one of the most important steps in its design. Whether it be through the stacking of fashion books on the bench at the foot of your bed, or even by hanging your favorite art pieces above your side tables, adding your own touch is easy. Start small and gradually keep adding until you feel it's too much. Your bedroom is, well, your bedroom, so designing it the way you want it is of the utmost importance.
---
Bedding can be extremely difficult. With all the different sizes of pillows and layers of sheeting, creating a well-appointed yet comfortable range of blankets and bedding can be overwhelming. However, you should be happy to know that google is readily available to tell you how to style your new sheet-set. By using varying pillow types and cohesive but separate patterns, your bed will become your favorite place to be. Who wouldn't want that?