Lighting is extremely important when it comes to a space's design. Not only can light fixtures correspond with the desired style, but the light and the way that it is cast has a major impact on the ambience of a space. Here is our "beginner's guide to lighting."
What are the three types of lighting?
Task lighting is a specific type of lighting that is used to complete a specific job. For example, when drawing a sketch or writing in a notebook, a task light is necessary to draw more light to one particular object of interest. In this case, the sketch, or notebook, is what needs to be illuminated rather than the rest of the room. This narrow shaft of light reduces unwanted shadows, obstructing you from completing the task on hand.
---
Ambience is vital when concocting a multi-variable design with layers, textures, and colors. Without it, a space wouldn't reach its full potential. Therefore, ambient lighting is the prevalent and obvious form of lighting. Otherwise known as "overhead lighting", it is used to replace daylight. If standing alone, this category can make a space feel bland and boring by casting a flat layer of light over a whole room without accentuating certain pieces that deserve more light than what the bulb emits. However, by using one with the other, varying light forms help you achieve your goal of creating a soft, relaxing ambience easily.
---
Accent lighting is used to illuminate dark corners and cast shadows on others. It's used to create texture and draw focus to certain areas of a design. Whether it be a pair of porcelain "chinoiserie" lamps, a sconce, or sometimes even a chandelier, accent lighting is the final step in creating the most comfortable environment for you and guests.
---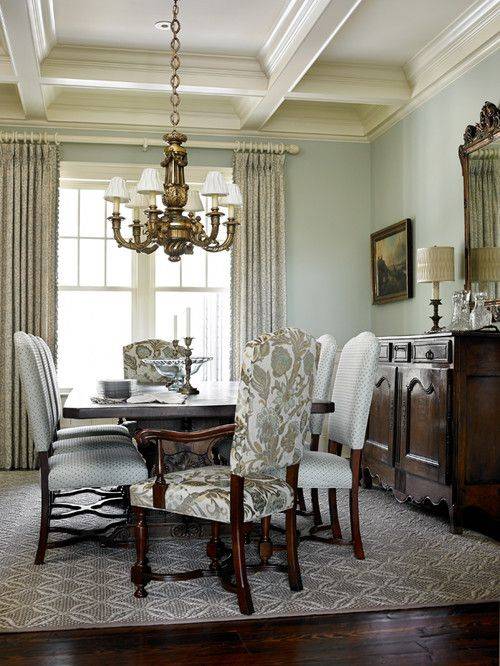 Use different fixtures for different jobs.
In a dining room, it's likely that the chandelier or down-lights above the table will be emitting the most light into the space. But, like I said before, it's always necessary to mix the different kinds of lighting. For example, even though the chandelier above the table is lighting up the whole room, there might be a wall that's darker than the others. This is the perfect opportunity to place a pair of porcelain lamps atop a commode on said wall to even out the darkness. However, not all fixtures in a room have to project the same intensity of light. Play with different wattages to develop a layered space.
Experiment with bathroom lighting.
Lighting poses one of the most difficult tasks in designing a bathroom. In the morning, most people like for their bathrooms to be bright, allowing them to wake up and be alert as they get ready for the day. However, at night, most of us prefer a warmer, more softly lit space that allows us to unwind and know that sleep is on the way. A light dimmer or varying circuits enable these two forms of light. LED lights are necessary when putting makeup on in the morning, but try combing LED lights with more yellow lighting that can be used to create a much softer vibe at night.